The largest castle of the 17th century
in the Lyon region
After passing through a majestic tree-lined driveway, you'll discover this exceptional monument located just a stone's throw from the Saône river in Fareins.

A vision of Italy on Lyon's doorstep
Elevated by a jet from 1606 to 1625 and preserved intact, it is an exceptional testimony to the life of Lyon's great notables.
The paintings by Tuscan-born painter Pietro Ricchi will surprise you with their quality, scale and state of preservation. The château preserves a pictorial ensemble unrivalled in France: 10 frescoed rooms.
During your visit, you can also admire the large sculpted fireplaces, the empty-cage staircase, the richly furnished Louis XV paneled apartment and the antique kitchens "in working order".
Immersion in the 17th century and the Age of Enlightenment guaranteed!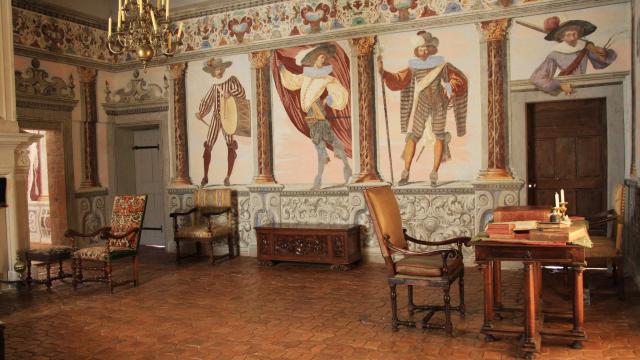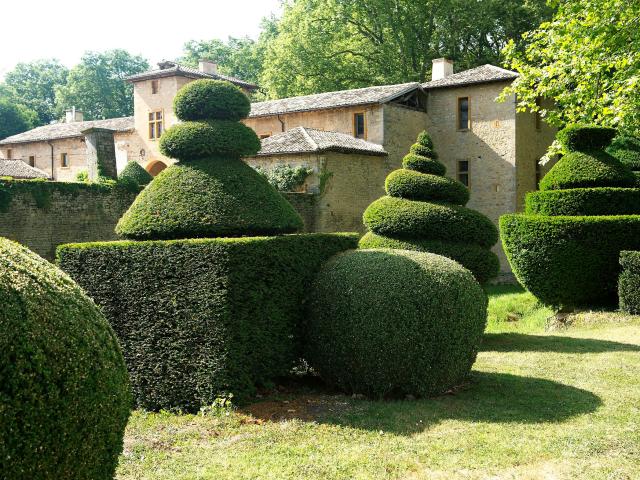 DID YOU KNOW?
Filmmakers have also fallen under the spell of Fléchères (logical!), and several films were shot in this beautiful residence, including "Le Diable par la queue", "La Marquise des ombres" and "Les Lyonnais"
Surrounded by charming nature
You'll be amazed by the sheer scale of the building, unusual in the Lyon region, but also by the preservation of its medieval appearance: moats, rampart, corner towers, châtelet, drawbridge…
And, no doubt, you'll marvel as you stroll through its parks and magnificent gardens. Under majestic trees, you'll discover beautiful views of the château and the Beaujolais mountains.
As with all our monumental nuggets, now you only have one desire: to visit this marvellous château!
Organize your visit
at Château de Fléchères